Our Policies
A $100 deposit will hold a pup and is 100% refundable until the litter is whelped (born). Homes are carefully screened to assure you and your pup will succeed together.
Our pups sell fast and we encourage you to put down a deposit early. Deposits are taken in order by the gender you prefer. You will choose your pup by the order of when you placed your deposit. For example, if you are first in line, we will schedule you to come in first to pick out your pup. Picking is done by order of deposits and gender (male or female).
Don't be discouraged if you are not first in line—we are constantly amazed how the right pup always goes to the right family. Somehow it just works out. Sometimes the pup we would consider first pick goes to the person last in line…and everyone is thrilled with the dog they chose. God looks after little puppies too!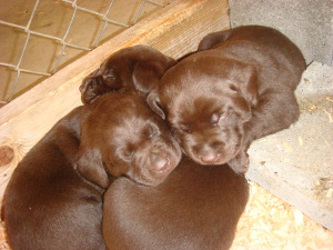 We also arrange litter visits so you can enjoy the baby stages as they grow. They may look almost alike, but each puppy is born with its own personality, so we track their personalities and keep a record of observations on behavior traits to help you choose the right dog for your family.
The remaining balance is due in full (cash only) when you come to pick up your puppy. You may pay with a check or money order ONLY if it is received 15 days before puppy pick up. No exceptions will be made.
You will receive your AKC registration paperwork, our written guarantee, vaccination & worming dates, and puppy care instructions.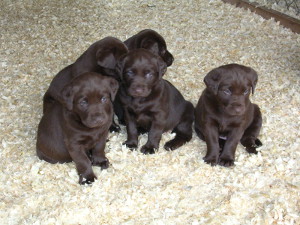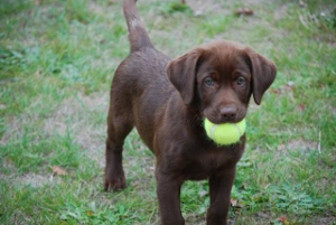 AKC Registration
In order to preserve quality in the breed, and in accordance with Puget Sound Labrador Retriever Association policy, our pups are sold with a Limited AKC Registration. This means you can do anything you want with your dog and compete in everything except Breed shows with this limited registration. However, you can NOT breed your dog until you have Full Registration or the pups will not be eligible for registration with AKC.
If you want Full Registration, you must do the required health clearances on your dog which are: OFA hips & elbows certification, and Eye CERF exam.  You may also need to do EIC & CNM- DNA testing depending on your dog's parentage.
Once the required health clearances are done, and we have not found you to be a Puppy Mill, we will sign the AKC papers for FULL registration, which is done quickly and inexpensively with AKC.
We continue to provide support and help in any way needed. Our pups are sold with the provision that we will always take the dog back if necessary, to insure our pups' continued well-being. This will not include a refund, but will allow us to do any training that is needed, and find a new home for the dog.