Started/Older Dogs
---
Kingsland's Precious Penny
Penny is a beautiful, sweet natured dog. She is dark chocolate, stands around 23" tall, and weighs 75 pounds. She loves water and is very athletic, but her best quality is her perfect lab temperament. She is very mellow, extremely smart, and very intuitive. All this makes her a joy to be around. We call her Perfect Penny because she has never done a thing wrong!
Penny is now 5 years old and done producing outstanding puppies in our breeding program.
We love Penny very much and wish for her a family to love and grow old with, so she is now available for adoption to the right home. She would make an excellent therapy dog because of her quiet, kind, & intuitive mature. Penny is obedience trained and would require No extra training to become a therapy dog.
Price: $3500.00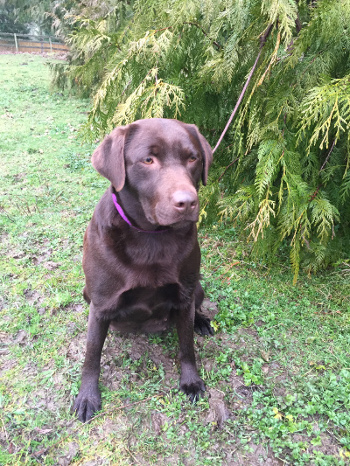 Call name- Penny
Color- Chocolate
DOB- November 27, 2013
AKC# SR80409301
OFA# LR-218006E24F-VPI
OFEL# LR-EL70608F24-VPI
CERF# LR-EYE7988/22F-PI
CNM- clear by parentage
EIC- clear by parentage
PRA - Clear
Breeder- Teresa Meredith