Kingsland Retired Dogs
---
Kingsland's Miss Molly
Molly, is a very sweet, dark choc., and is a beautiful dog. She is miss manners, learns very quickly, and loves water and birds. She is out of Kingsland's Shell-be for birds, who produced very kind dogs that where great with children, but also great hunting dogs.

Pedigree
---
Kingsland's Shell-be for Birds "Shell-be"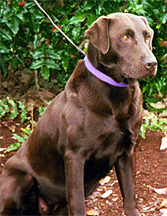 Shell-be is very sweet, quiet and easy to be around. She has a beautiful square head and is nicely put together, but when it is time to find the birds she is all business. She loves water and has a really good nose.

Pedigree
---
Marauder's Hidden Jewel JH ,WC
Jewel is a nice dog with a pretty head, and she stands about 24 inches tall. Jewel loves to retrieve, and loves birds and water. Jewel is a very easy to be around dog because her goal is to please you. Jewel's dad was the #2 amateur dog in the nation in 1997, and her brother, Tanner, is a FC, AFC field champion.

Pedigree
---
Kingsland's Hot "N" Spicy Girl SH "Spice"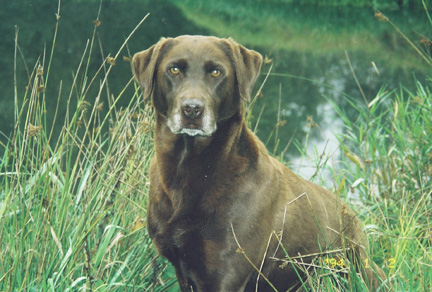 Spice, Trudy & Sky's mom is a beautiful dog, and is now retired from my breeding program. She is my highest titled female, and she has 2 qualifying scores at Master level. Spice was a fun dog to train because she has a lot of natural ability, is very stylish, smart, and eager to please. She also loves birds, water, and has a good nose. In a lot of ways she is like her father, Gator Pt. Mick Dundee MH.

Pedigree
---
Kingsland's True Blue "Trudy"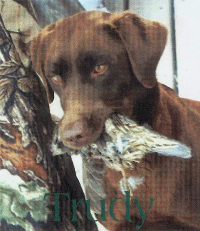 Trudy is a really nice female. She is smart, eager to please, extremely athletic, and loves to hunt. She has a pretty head, weights 60lbs, and has good chocolate color. She is a pointing lab. That will point just like an upland dog when the situation is right, but also will flush the birds. Two of her sister have AKC Master Hunter titles, and are outstanding hunting dogs.

Pedigree
---
Kingsland's Madam "Sky"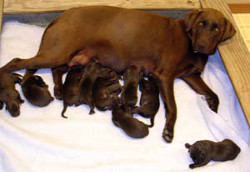 Sky is a beautiful dog. She is a big (70lb), strong built and nicely balanced female, and she is producing really nice puppies. Sky's mom Spice was a great dog, and my highest titled female with 2 qualifications at Master Level. Sky is now retired from breeding.

Pedigree
---
Kingsland's Gentle Breeze "Bree"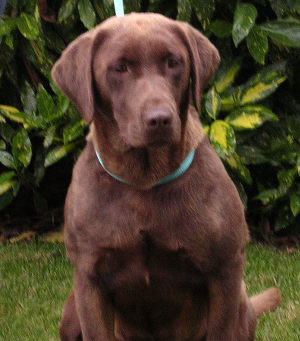 Bree is a very pretty dog with an extremely sweet temperament. She weights 65 pounds and has light chocolate Color. She is very athletic, and loves the body God gave her. She is known to catch air any time she can even if it means just jumping over another dog (She would love to be a high flying Frisbee dog). As athletic as Bree is, in the house she is the calmest dog I own, and happily lays at my feet for hours. She is a product of 5 generations of my breeding program, and comes from lines that are very bold hunters with outstanding noses and drive, but are equally happy working as therapy dogs. I like to say they have a switch in their brains, so when they are working they are full tilt and boogie, but when they not working they will just calmly hang out with you. Her grandmother, Kingsland's Chocolate Haven, and her aunt, Kingsland's Hanna, both were used as companion/therapy dogs for handicapped children. One of Bree's aunts is a working Search & Rescue dog, and one of her great uncle's, Vers-NATCH Kingsland Milo Oh Peng MX MXJ; MAD TM-B; S-TN-E, is the fastest Labrador in the Nation and a Rock Star in Agility. To see more about Milo go to – www.jef-b.com

Pedigree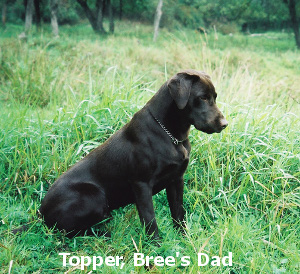 ---
Kingsland's Crisgo Girl "Crissy"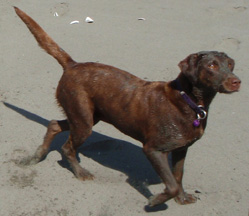 Crissy is a cute little girl (55lbs), smart, and athletic. She has been producing really nice dogs that are smart, good looking, healthy, and extremely athletic. Her puppies are very bold, and love to have a job to do. They work well in a home that wants to have a best friend, and a fun dog to train at most any sport like, hunting, agility, search and rescue, or dock jumping.

Pedigree