Gator Pt. Mick Dundee MH "Mick"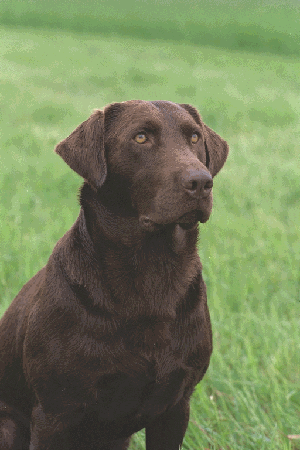 (May 18th 1990 to June 2005)
At the beginning of my field training experience I got a male chocolate pup from Gator point kennel. My husband named him Gator Pt. Mick Dundee, and at 4 mos. of age Mick showed me that he had a great nose and mind when he trailed a shot bird to the back side of a hill, and from that time on I knew I had a great dog, and by the time he was a year old my field trial training partners were telling me that Mick was a talented field dog even though he was a CHOC!
Back then, 1991, you didn't see many chocolate labs in competition, so everyone noticed a chocolate dog that had talent. Mick and I learned the field trial and Hunt test game together, and Mick's natural instincts, intelligence, and obedience made him a stand out from the first day we competed, and he was so talented that he made me look good as a handler. The competitors that only owned and respected black labs used to joke with me telling me that the chocolate was going to melt off of Mick, and expose a black lab underneath.
I remember one of our first water blinds at a Senior level test, and right before I give Mick the second cast to the blind he turned and swam straight to the dead bird. I thought Mick had become telepathic, but Doug Shade laughed and said he trailed the scent on the water. I didn't know a dog could do that, and none of the other dogs did that day either.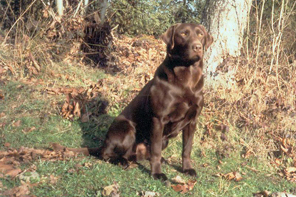 Mick earned an AKC Master Hunter title when he was just 4 years old, and all his training was done by me, and with out an Electric collar. We had the privilege of training the first few years in the field with the great Amateur trainers in my area: Ken Lee, Dan Jones, Chris Allaire, Bob Crab, and Mel Milton. With their help I learned how to help a great dog learn the game of field trial without breaking his spirit. Dan Jones once told me that Labs naturally want to retrieve, and our job is to teach them the rules without hurting their natural ability. Dan Jones trained all his dogs without an E-collar, and his dogs were FC-AFC titled, and the last dog Dan owned and titled was a Mick grandson, FC-AFC Dan's Tangent "Tanner".
Mick's natural ability in the field made it a pleasure to train and compete with him, but what I loved and appreciated most about him was his attitude and temperament. Mick was a very obedient, calm dog which is not what you normally see in field bred dogs. Mick also was extremely smart, very eager to please, and he always gave me 110% at what ever I asked him to do.
Mick was not only a great field dog, but he proved to also be a great stud dog by strongly passing his instincts and temperament on to his offspring, and he set the gauge for my breeding program.
In the late 90's in NW Field trials, two of the three chocolate labs completely in this area were Mick's sons, and both were All Age Qualified, and had AKC Master Hunter titles. Here are the names of just a few of Mick's offspring that have done well in AKC Field Trials and Hunting Tests: FC-AFC Dan's Tangent, Kingsland-Trout Kodi MH & AAQ (All age Qualified), Mickey's chocolate Mantle MH-AAQ, MHR Chocolate Thunder Down Under CD, MH, Kingsland's Have No Mercy MH, Katie's Super Tank Jake MH, Kingslandtopgunmissbehaven MH, CCR's Rougue's Rudy SH, CCR's Triple Brownie Overload SH, Kingsland Sheisa Sheila SH, Kingsland's Hot 'N' Spicy Girl SH (2Q at Master level), just to name a few. I am still getting calls and e-mails from hunters that owned a Mick offspring, and they always say their dog was their best friend and the best dog they ever hunted over.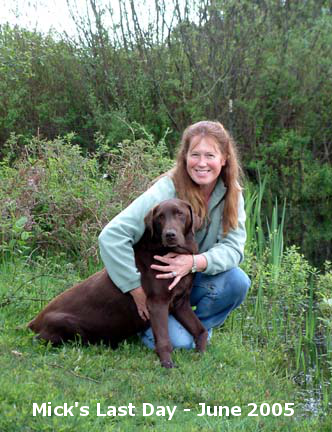 Mick lived to be 15 years old and is greatly missed.
Call Name – Mick
Color - Chocolate
DOB – 5-18-1990
AKC# -SG047330
OFA# LR- 45544E24M-T
OFEL# LR- EL437-T
CERF# LR-5139/2000-120
CNM# LR-CNM10-710-M-PIV
EIC – Normal/Clear
AKC DNA Profile# V48873
Breeder – William J Watson & Cleo F Watson

Pedigree
Mick's Parents