Kingsland's Super Cooper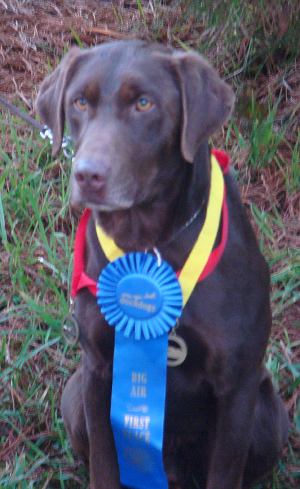 Cooper, is a very special dog, he is 24" tall, light chocolate, and strong built. He is an extreme athlete, and does everything full throttle when he is working, but when he is in the house, he is very quiet, very relational, and he just really wants to please.
He is very well put together in body type, moves like a Cheetah, and his water entry is very big & bold - he always must catch big air when entering the water. Cooper reminds me of his grandfather, Gator Pt. Mick Dundee MH, who was my first great dog.
Cooper, competed in this region at Dock dogs with my good friend Kristi Baird, and he was a rock star winning the Iron Dog title 5 out of his last 6 competitions. He then went to Dock Dog's World competition where he made his mark taking 3rd in Speed Retrieve, and 9th in Iron Dog.

Cooper is the type of dog that always goes big before he goes home, and excels at what ever task he is given.

Cooper has produced a lot of outstanding hunting dogs, but we are most humbled and proud of Cooper's brother, sister, half brother, and sons & daughters who are all certified Search & Rescue dogs. Their selfless, hard working owners are using their dogs hunting skills to find & rescue people, and we are proud to breed dogs that enjoy doing this honorable job.
Call Name - Cooper
AKC# SR52142806
DOB: August 12, 2008
Hips: LR-189024E24M-VPI
Elbows: LR-EL48330M24-VPI
Eyes: LR-54772
CNM: #LR-CNM09-431-M-PIV (Clear)
EIC: # LR-EIC657/7M-PI (Normal/Clear)
CERF# LR-54772/2013
CARDIOLOGIST: Clear
PRA - Clear
DNA Coat Color - Clear of Dilution


Pedigree



Links
Cooper's Dock Dog Accomplishments
World title- 3rd in Speed Retrieve- 5.62 seconds
 World title- 9th in Iron Dog
 Elite Jumper title- personal best-  24'5"
Extreme Vertical- personal best- 6'6"